THE BEST EXCURSION EXPERIENCE IN PUNTA CANA
Sail on a premium boat equipped with shareable net hammocks on the way to a snorkeling stop at the Cabeza de Toro Nature Reserve and a sandbar the most interesting is Excursion in Punta Cana . Plus, unlimited drinks from an open bar, round-trip transportation, and use of snorkeling gear make vacationing easy without handling the stressful details of the day. In addition to the good attention the visitor receives, you will have one more experience of the good and pleasant things that life offers us.
THE ATTENTIONS ON THAT EXCURSION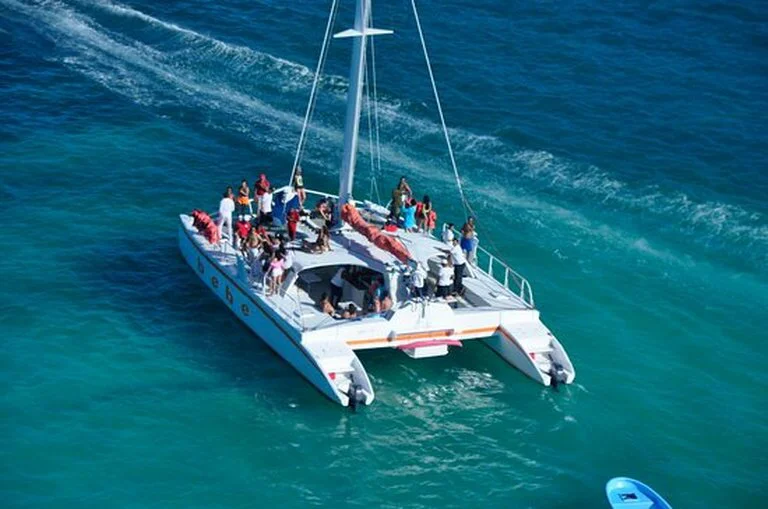 Small group catamaran tour from Punta Cana means more personalized attention
Snorkel near tropical fish habitats in the Cabeza de Toro Nature Reserve
Juice, beer, and cocktails from an open bar keep you cool
Sunny hammocks and shaded seats available on board for a comfortable ride
Hotel pickup and drop-off included for your convenience.
If you want to see more about the best beaches in Punta Cana, click here!
WHAT TO EXPECT FROM EXCURSION IN PUNTA CANA
Begin your tour with hotel pickup before your selected departure time in the morning or afternoon. Head to the dock, board a catamaran, and set sail in the Caribbean Sea. Lay back on the net hammocks in the sun or stay under the shady part of the boat as you head out into the water.
After a short drive, arrive at your first stop at the Cabeza de Toro Nature Reserve, near Cabo Engaño on the east side of the island. Put on your scuba gear and dive into the waters in a place known as a tropical fish habitat.
Continue to a sandbar surrounded by shallow water. Enjoy drinks from the floating open bar along with snacks like nachos and fresh fruit before returning to your original starting point. This tour concludes with the return of the hotel.