Round Mountain is a landscape place that has been operating as a tourist place since (1999). Its owners are the "Pión Martínez" family, which for more than 30 years have owned the current property rights, which have been the 3rd. Generation of this family running the place.
Round Mountain is located in Miches, it is an unforgettable place, surrounded by the nature of the countryside, enjoy a panoramic view, where the reflection of the lagoons are combined with the sunrise on the beach and the sunset with the green of the mountains, air clean, peace and quiet.
The vision of the place is to create strategies to attract, organize and promote adventure tourism, offering services based on life in the open air, adventure travel and activities related to the natural environment, promoting hiking, recreation and leisure.
Offering activities from the simplest to the most complex through the assembly of innovative and attractive packages throughout the province of Seybo. Being pioneers in the area in providing the best satisfaction and security to all our customers and positioning ourselves as the best tourism company nationwide.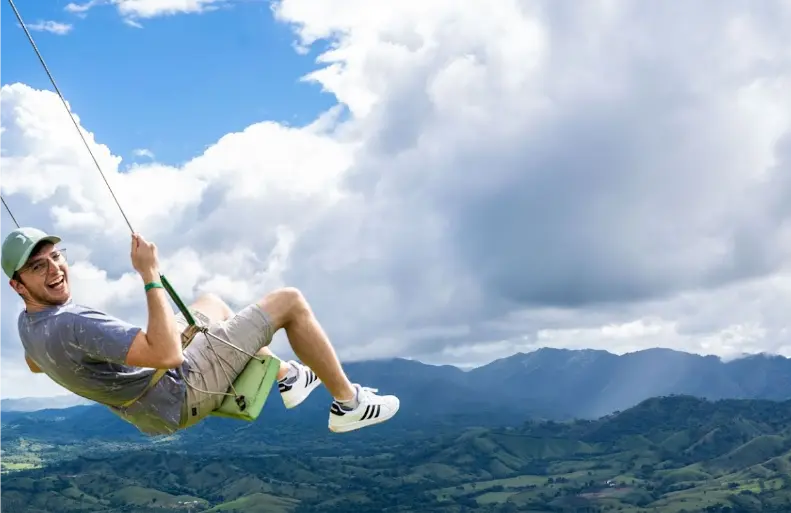 This beautiful place is made special by its swings, which lead you to feel the beautiful sensation of flying, contact with nature and not to mention the spectacular photos that you can take. There you will be able to witness different climates at the same time: you could see rain on one side and the radiant sun on the other side from a distance.
The Dominican Republic has this wonderful place (Montana Redonda), a place where in addition to being in contact with nature, its beauty, its peace and its high altitude, will make you feel that you can run into the clouds. It is a place where you can camp, spend just a while or you can also stay to live the experience of seeing the beautiful sunset.
To find out about other interesting places in Punta Cana and surrounding areas, follow us at mypuntacanaholidays.com
How to get to the Round Mountain: CLICK HERE!