Catalinita Island is the smallest of the islands just off the coast of Bayahibe, Catalinita is located in the Catuano Channel, it is popular for its crystal clear waters throughout the year, as well as for its richness in corals and abundant marine life.
Eagle rays, sharks and turtles are just a few of the species found in these shallow waters. It is also part of the Cotubanamá National Park and you can combine a visit with a diving excursion to Saona Island.
Isla Catalinita is located just over three kilometers from Isla Saona, the largest neighbor of this group of islands, and almost a kilometer and a half from Hispaniola, the mainland of the main island of the Dominican Republic. Private boats and excursions allow access to this island and the enjoyment of everything it offers to international tourism.
Catalinita Island is the name given to a small island of 22 hectares (equivalent to 0.22 km²) that is located southeast of the Caribbean country of the Dominican Republic, it is 1.4 kilometers from the mainland (main Dominican Island, Hispaniola) and 3.5 km north of the larger neighboring Isla Saona.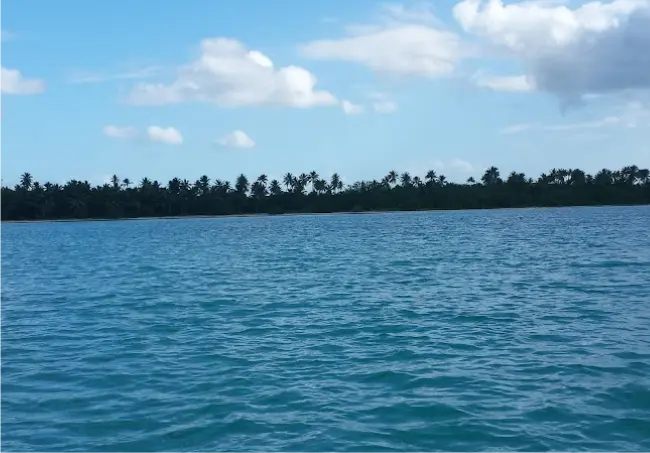 It is uninhabited. Because of its shallow coral reefs and dive sites on the island, it is often visited by tourist boats, located in the Catuano channel, on the coast of the Parque Nacional del Este, in La Romana.
The corals found near the island make it one of the favorite places for diving and snorkeling; and its wide biodiversity and paradisiacal beaches, call to enjoy long walks on the beach and the contemplation of tropical nature.
Scuba diving is one of the main activities to be carried out on Catalinita Island. Diving in the Catuano channel and all the wild area that surrounds it is a pleasure thanks to its crystal clear waters and the coral walls that allow you to enjoy the marine life of the region.
Excursions to Catalinita Island usually depart from Punta Cana, Boca Chica and Bayahibe, in which food and drinks are included. Among the activities on the island, diving and snorkeling stand out, touring the enormous biodiversity of the area. In addition, the paradisiacal beaches are tempting to take long walks and contemplate the tropical nature of the Caribbean.
To find out about other interesting places in Punta Cana, La Romana and other places, follow us at mypuntacanaholidays.com
How to get to Catalinita Island: CLICK HERE!