Berna Cave is part of the Cotubanamá National Park, located one hour south of Punta Cana in the fishing village of Boca de Yuma, it is among the largest and most important Taino caves in the Dominican Republic due to its high number of petroglyphs. Look for Taíno faces carved into the rocks at various heights, some of which can be climbed carefully with a guide.
You will also find bats and small birds in the cave. Multiple tour operators offer guided tours to Cueva de Berna from Punta Cana, in which you can discover the meaning of this ancient rock art, the trip is combined with a lunch in front of the sea in Boca de Yuma.
WHAT CAN WE FIND AND SEE IN THE CAVE OF BERN?
There are a series of open-air caves caused by the collapse of their roofs, a product of underground corrosion of the waters that flow into the sea. A large percentage of humidity is still felt inside.
We are surprised to hear that the indigenous have used spaces for fruit farming. There is a large number of petroglyphs of the original peoples, in addition to "Cueva de Berna" it is usually called "Cueva de Bernard", in relation to John Bernard, one of the founders of Boca de Yuma.
Today the inhabitants of the region are excited to share this beauty with the growing Dominican tourism. We hope to contribute with our grain of sand by writing this information because it is really worth visiting this place.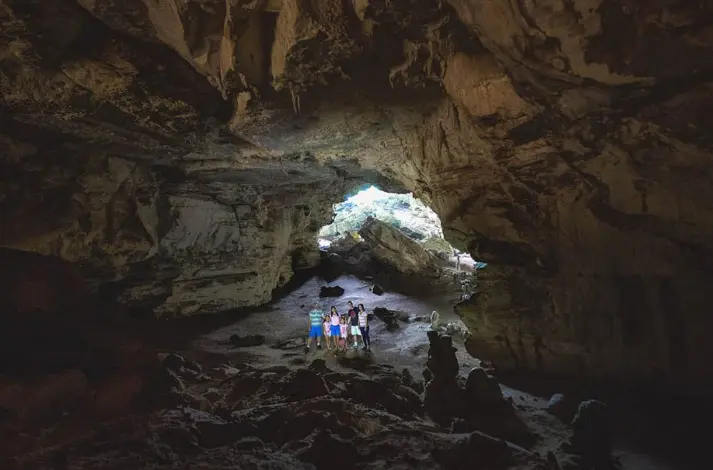 The petroglyphs are distributed in three specific areas: at the entrance to the cave. A small set further into the cave, and another to the left of the cave entrance. Surprisingly, it still retains some painting, exhibiting an abstract style, where they predominate. The figures in concentric circles, frets, among others.
This is the only cavern that has been scientifically excavated in the Parque Nacional del Este area, and it is a destination. Very frequented by tourists, who do not hide their astonishment when contemplating these cave works. When observing them, it is natural to let oneself be carried away by the imagination. And place yourself at that moment in history where the aborigines captured these figures as a form of communication.
To find out about other interesting places in Punta Cana, follow us at mypuntacanaholidays.com
How to get to the Berna Cave: CLICK HERE!