Bávaro Adventure Park is cataloged as the only adventure park in the Dominican Republic, and it is the ideal place for travelers to have many options when choosing their excursions in Punta Cana, and that is why we offer a variety of tours and activities that they are perfect for families and solo adventurers.
Enjoy our Splash of Emotions experience, unique in the Punta Cana area. Enjoy our impressive recently discovered open cenote, surrounded by exuberant vegetation. Our freshwater lagoon is the serene place you'll never want to leave. They, hold on while your raft is dragged down the river and enjoy the nature that surrounds it. An incredible and exclusive adventure in the area!
Outdoor adventure theme park in a natural and ecologically sustainable environment. We have 44 hectares of land, 5.5 km of ecological trails, sustainable architecture based on used containers and recycled materials.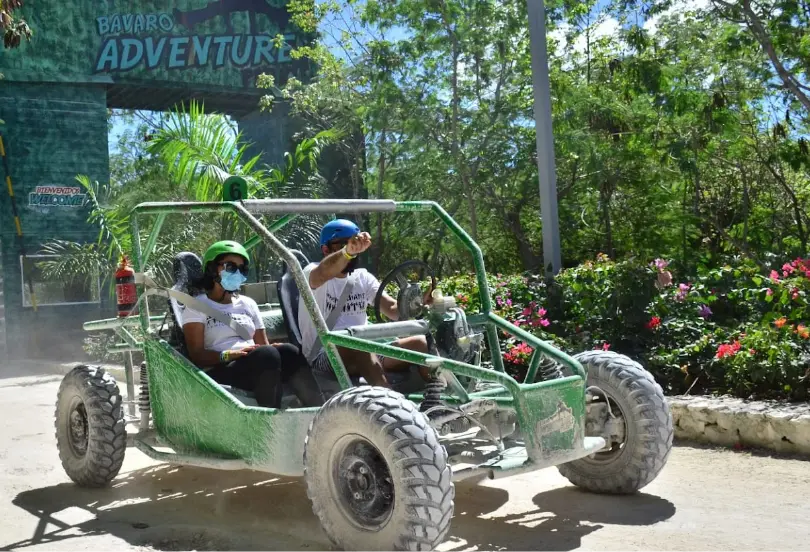 Adventure and fun are the essence of Bávaro Adventure Park. Our amazing team of event producers are experts at creating truly memorable experiences for your group. We take care of everything before arrival at the park, during our activities and after them. That means the only thing you have to worry about is exactly how much fun you and your team would like to experience.
Security and redundancy is our promise to you. Your safety is our most important mission and that is why we put at your disposal equipment from manufacturers of the highest quality in each of our attractions, with the most modern and reliable security systems in the world.
Outdoor activities, friendly to nature, exciting and ecologically sustainable, challenging according to the physical abilities of our visitors, can offer the adventure and ADRENALINE SURGE for each individual according to their interests, abilities and age range.
The park offers an international and multilingual staff, each specialized and certified in their areas. The partners and shareholders all come from the hospitality industry with years and years of experience, knowing the importance of offering the highest standards of quality and safety both in the physical plant and in customer service.
To find out about other interesting and beautiful places in Punta Cana and surrounding areas, follow us at mypuntacanaholidays.com
How to get to Bávaro Adventure Park: CLICK HERE!