Villa Tartaruga is an excellent place that you can contemplate and marvel at one of the new and modern properties built within the exclusive Puntacana Resort & Club. Built on one of the last remaining beachfront lots, Tartaruga offers enough space to accommodate 20 guests in any of its 8 comfortable and spacious rooms.
As if stepping out of one of Picasso's masterpieces, the main entrance leads you through a long corridor next to a pool of crystalline waters and rounded white columns while discovering the cubic façade that leads you to the main hall of this splendid two-story villa.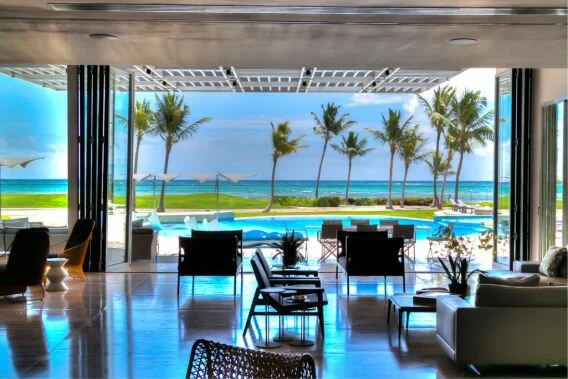 Marble mosaics on the floor and coral stone on the wall will guide you into the living room through a high ceiling with overhanging wooden beams and surrounded by evergreen palm trees and Caribbean vegetation.
There, the stunning view of the emerald blue ocean is perfectly balanced by the rattan chairs, sofas and seating places that make up a calm atmosphere. Going outside invites everyone to plunge into the large pool with a hot tub and have a clean view of the endless Caribbean Sea.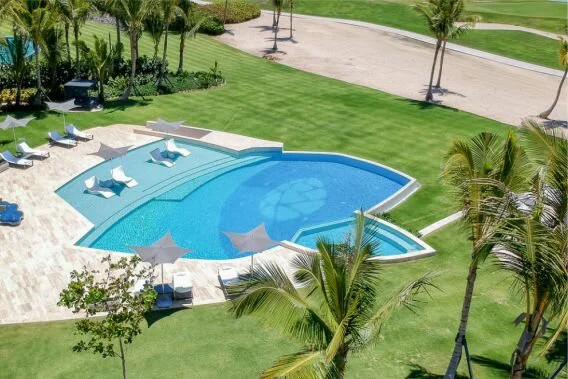 Next to the living room is the dining room with exquisite decoration and a large table with enough space for 22 seated guests. Eyes are naturally drawn to the mesmerizing outdoor views and light is provided by a modern rectangular pendant chandelier.
To exercise and shape the body, the villa has a complete gym with Technogym equipment, dumbbells and more. After the training session, the massage room offers everything you need to relax and regain strength. For those who are not big sports fans, the property features a unique 12-seat theater to watch your favorite movie while eating popcorn or the media room on the second floor with 4K HD TV. For those who like to gamble, in the guest house, there is a bar with 4 televisions and a poker table to try your luck and strategy.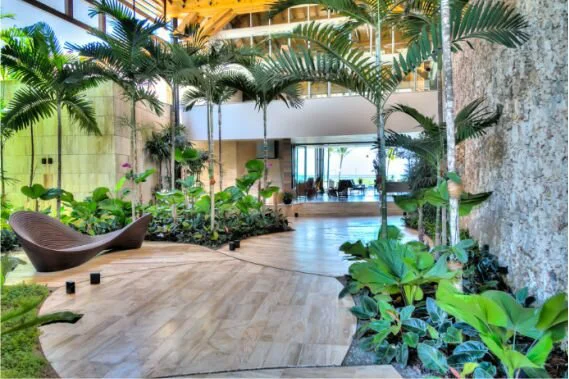 When the sun goes down, the power needs to be pumped! On the second floor of the main villa, which we can reach with the elevator, it has the master bedroom with a King bed, private bathroom with a bathtub, and amazing views of the garden and the ocean. The second and third bedrooms each have a king bed and private bathroom.
On the first floor, the fourth bedroom has 2 queen beds and the fifth and sixth bedrooms each have 1 king bed. They all also have a private bathroom each. Finally, in the guest house on the second floor, we have the seventh bedroom with a king bed and the eighth bedroom with 2 queen beds. Both have a private bathroom each.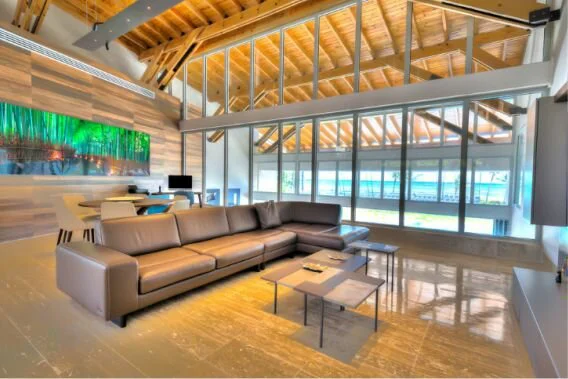 To find out about many places in Punta Cana with all its amenities, follow us at mypuntacanaholidays.com
How to get to Villa Tartaruga: CLICK HERE!