Chicho's Cave is one of the most outstanding and interesting underground caves in the country. Nestled within the Cotubanamá National Park, its crystal clear aquamarine waters attract many visitors.
It also contains numerous petroglyphs that prove the presence of the Tainos in this place. You can immerse yourself in its fresh blue waters that resemble a lake, or if you are a certified cave diver, you can venture deeper with diving tours that are booked with authorized operators in Bayahibe or La Romana.
Some of the springs in this area have, in the cavern that houses them, a corner dedicated to petroglyphs, which, for the ancient inhabitants of the area, made them not only places to get water, but also authentic temples full of magic and spirituality.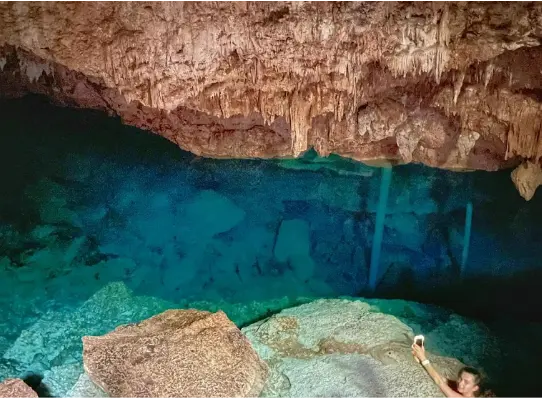 The visit to these types of destinations is gaining more and more popularity among those who are passionate about domestic tourism, who in turn are interested in living experiences that show our anthropological past. For our Tainos there was a super special place in a wonderful underground cavern, only known among divers and that you will be able to find out about now.
Chicho's Cave in Bayahibe is a historic site and an authentic Taino temple that keeps magic and still has petroglyphs made by the first inhabitants of our island in the ceremonial place.
The culminating point of the path to Padre Nuestro is found, a small area of ​​the Parque Nacional del Este, located in a depression between two limestone cliffs called Valle de la Sábila, near the tourist areas of Bayahibe and Dominicus.
In this place the silence is only interrupted by the echo of the drops of water. Never in my life had I swum in water as transparent as this" details Alejandra trying to find words to describe this place.
To find out about other interesting places in Punta Cana, follow us at mypuntacanaholidays.com
How to get to Chicho's Cave: CLICK HERE!