Casa de Campo Resort & Villas its opening in La Romana almost 50 years ago as the first resort in the Dominican Republic, Villas has been the favorite luxury destination of discerning travelers and celebrities from around the world, who prefer it for being a gated and private community, and enjoy a safe and exclusive environment.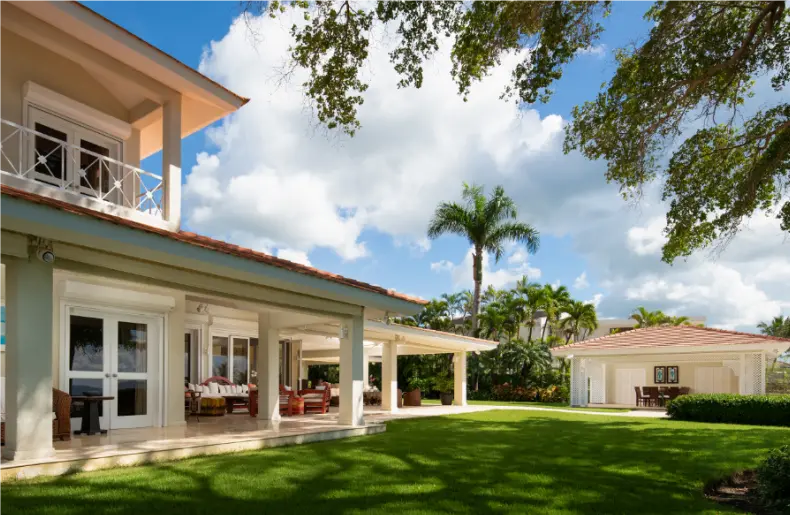 LUXURY PROPERTIES FOR RENT IN THE DOMINICAN REPUBLIC
Experience the true Caribbean lifestyle in a luxurious villa at Casa de Campo Resort and Villas. Surround yourself with the wonderful natural surroundings in our Garden Villas, or savor the incomparable luxury and breathtaking views of the Caribbean Sea, from an oceanfront villa. Each villa in Casa de Campo has a unique charm, allowing our guests to enjoy an idyllic and unforgettable experience in the Dominican Republic.
Each villa has a dedicated staff, private pool, elegant areas and unique touches. Guests who book a villa with Casa de Campo will enjoy a welcome service with delicious luxury refreshments upon arrival, daily breakfast prepared in the villa, housekeeping service, a dedicated concierge you can call to book spa sessions , restaurants, excursions and access to all the activities and services that we offer throughout the 3,000 hectares of our resort.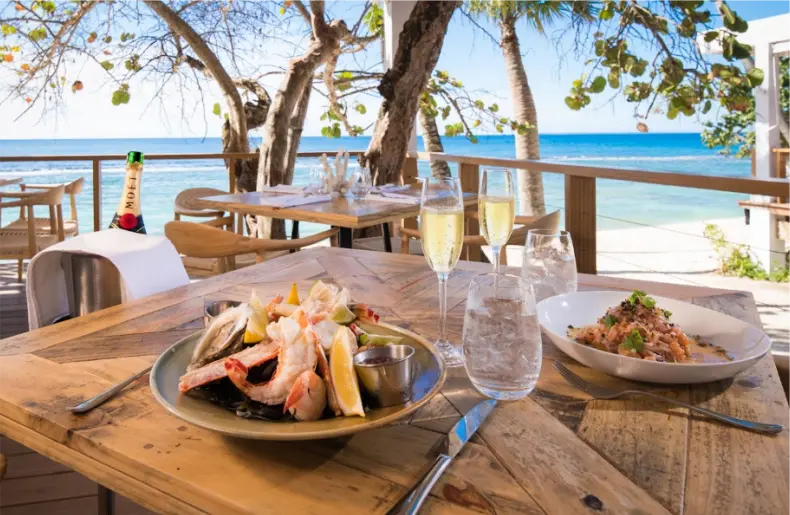 And of course, each villa offers golf carts for guests to explore around the resort. Only by booking directly with Casa de Campo can you enjoy all our amenities and the privileges of being a resort guest.
Casa de Campo Resort and Villas offers you a wide range of hotel rooms to ensure the comfort and style of your stay in the Dominican Republic. Choose our distinctive Superior Casita rooms to be close to the golf course or our spacious Elite Suites for when you need a little more space.
Each and every hotel and resort room includes luxury amenities and features. For your convenience, our Reception department is open 24 hours a day, 7 days a week, to attend to all your needs.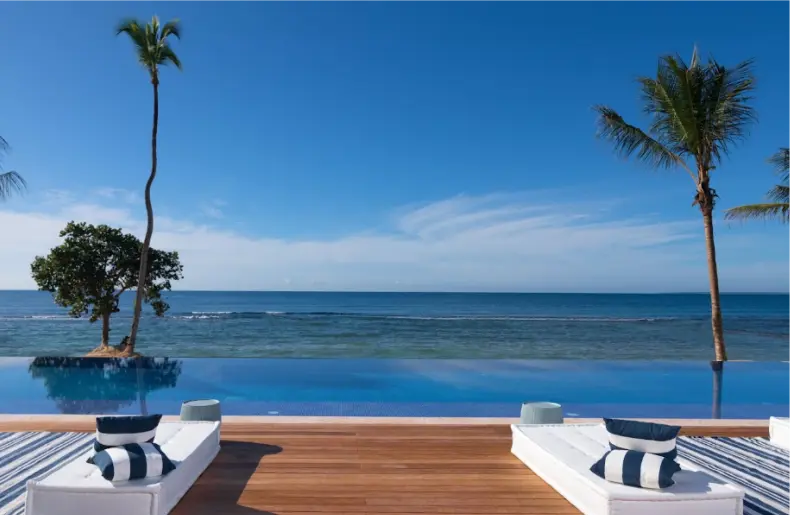 From a romantic getaway for two to vacations with the whole family, our luxurious facilities are sure to be your home away from home.
Known as the region's best golf resort, its 3 Pete Dye-designed golf courses include Teeth of the Dog®, the #1 course in the Caribbean. The activities are superior to anything you can find anywhere else:
8 outstanding restaurants including the impressive Minitas Beach Club
A navy,
An equestrian center with polo fields,
A shooting center,
Excellent shops and
3 beautiful white sand beaches.
If you are looking for the best, the most and the first in the Caribbean, an unforgettable experience awaits you at Casa de Campo.
At Casa de Campo Resort and Villas you can spend your time doing as much or as little as you like, the choice is yours. Stay active by playing a few sets on the court, discover the scenery on horseback, savor a delicious dinner followed by a romantic stroll through an authentic 16th century Mediterranean village, relax on Minitas Beach, bask in the warm sun of the Caribbean Sea, the list is endless. In fact, there is so much to do in Casa de Campo that you can't help but wish there were more hours in the day to see and do all that we have at your disposal.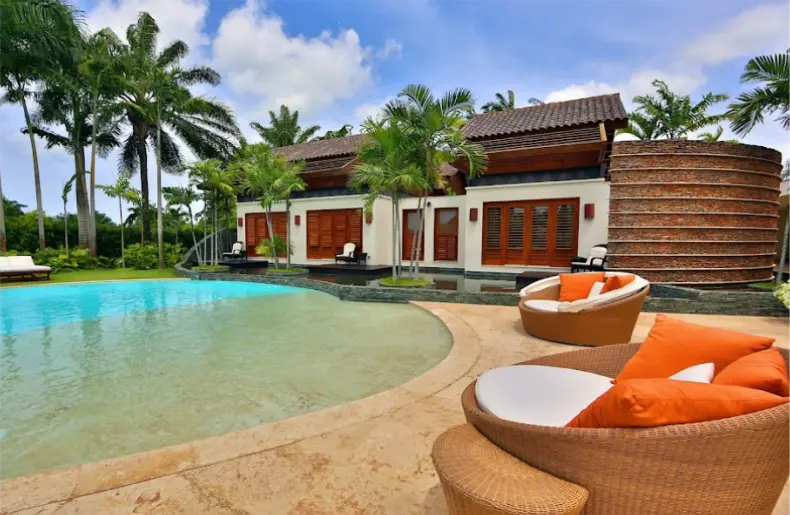 One of the simplest and most intimate pleasures in life is sharing a table. Sharing a meal we can get to know different cultures and distant lands without moving from the table. At Casa de Campo Resort and Villas, every dish is an opportunity to explore, learn and enjoy.
Let us guide you on a gastronomic journey around the world where no two experiences are the same, and each dish is created with its own personality and flavor. Plus, for all those times you'd rather not leave the comfort of your home away from home, we'll bring that dining experience to your room with our room service and private chef services.
Then, once the sun sets into the waters of the Caribbean Sea to stage the night, experience Casa de Campo through the many bars and lounges. From lively and intense settings to relaxed and intimate, there are activities for every taste and mood.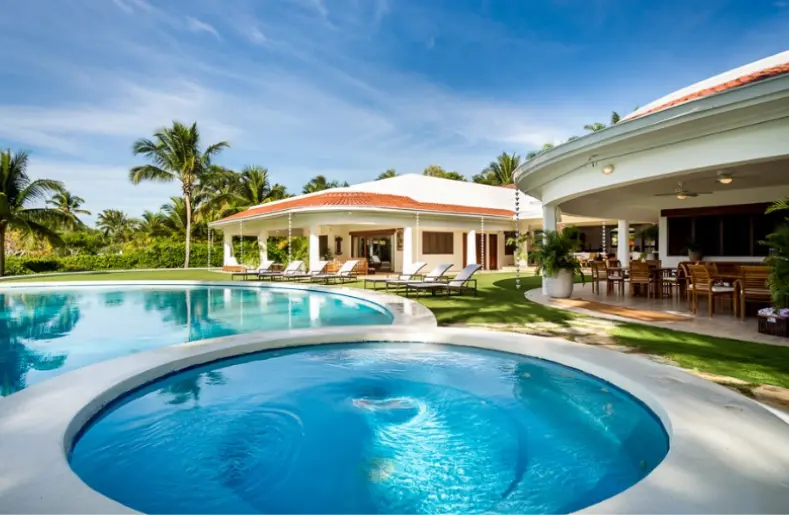 Golfers find their rhythm on the majestic golf courses at Casa de Campo Resort & Villas, carefully designed by the legendary Pete Dye, including the #1 golf course in the Caribbean, Teeth of the Dog. Playing golf in the Dominican Republic on these award-winning courses is bound to be an unforgettable experience.
Train with the pros at our state-of-the-art Golf Learning Center, so you can improve your skills on the course. Play your best rounds on the Caribbean coast in Pete Dye's three masterpieces: Teeth of the Dog, Dye Fore and Links. Unleash your potential with clinics and camps taught by Casa de Campo's leading golf instructors, or choose to practice with the Trackman simulator.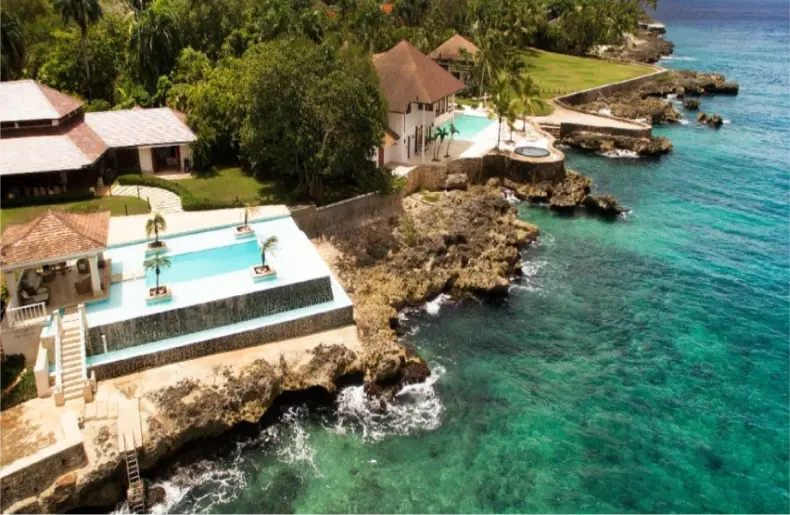 Step onto the tee of each of these three award-winning golf courses and find yourself surrounded by the crystal clear waters of the Caribbean Sea, marked by historical influences and unique challenges.
Nothing compares to the energy, excitement and excitement that surrounds a golf tournament. Casa de Campo is more than a resort that offers golf: it is a world-class golf resort in a stunning destination with some of the best courses and host to sensational tournaments. Put your skills to the test by registering for one of Casa de Campo's many tournaments, held on our legendary golf courses: Teeth of the Dog, Dye Fore and Links.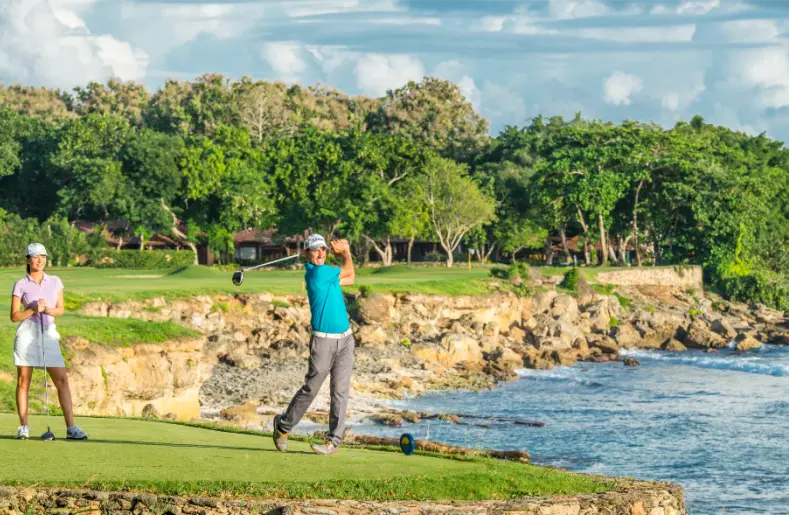 To learn more about other interesting places in Punta Cana, follow us at mypuntacanaholidays.com
How to get to Casa de Campo Resort & Villas: CLICK HERE!